Details

Category:

News and Events
From 24th to 26th January 2018, two senior staff members of RDIS went for a field visit in the area of the Anglican Church of Rwanda, Cyangugu diocese. As one can see in the few pictures below, all ongoing projects in this area are running well thanks to the good work of local RDIS staff members, stakeholders and the excellent leadership of the diocese.
1. Visit to the tree nursery beds which are located in Rusizi district:
Since many years ago RDIS is collaborating with government leadership especially at local levels (District, Sectors, Cells and Villages) in establishing, running and managing tree nurseries, which reach nearly half of the population of Rwanda from Gitarama (RDIS headquarter) to Cyangugu, i.e. the wide area of Southern and Western Provinces. This project is in line with the mission of RDIS organisation of safeguarding the environment and increasing production for sustainable and holistic development of the communities.
The tree nursery project produces tree seedlings, which are distributed freely to community members and institutions in the area. This successful project is implemented by RDIS organisation with support from Rwanda Aid.
By the end of December 2017 the project had distributed and aided to plant 200,000 tree seedlings for fruit and agro-forestry. Each tree nursery bed had 25,000 seedlings for agro-forestry, i.e. forestry and fruit trees.
The field visit was a good opportunity to meet with the sponsor of Rwandan Aid, Ms Alison Wright <This email address is being protected from spambots. You need JavaScript enabled to view it.>, who is currently on a brief visit in Rwanda. In the discussion about the current status of the project and plans for 2018 with her and the staff members of Rwanda Aid it was agreed that RDIS will have to employ a new staff to oversee the next phase of the project in the coming days, whereas Rwanda Aid will continue supporting the project.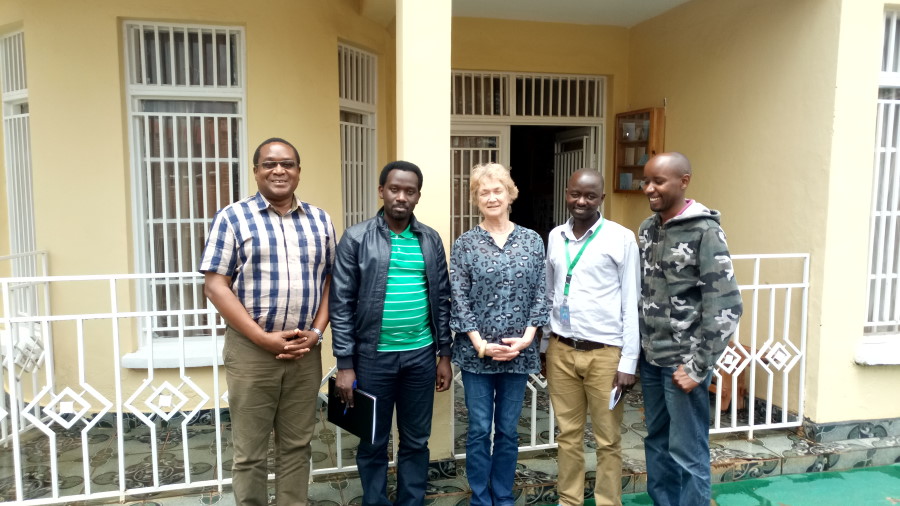 A group picture with Ms Alison Wright and some staff members of Rwanda Aid
Details

Category:

News and Events
Dear Friends/Colleagues/Partners/Collaborators,
I cannot thank you enough for the work and accomplishments and achievements we got this year. Thank you all for your contributions!
In this year, we thought it would be ideal to share with you some of our accomplishments by this means - email and website. But more importantly, knowing that we are getting close to the end of the year, I would like to take this opportunity to wish you and your families a Merry Christmas and a prosperous New Year!
We have achieved a great deal despite of some challenges.
Among the major issues that challenge the environment in Rwanda is the wide use of open firewood stoves for cooking and for boiling drinking water. Similarly, the hunting, cutting, fetching and carrying of the tree logs and branches by man primarily living in rural communities have caused increasing deforestation despite the RDIS's forestation and tree planting efforts. While the entire process is useful to enable households to have food on table, RDIS decided to come up with a project that would enable the local communities to continue using firewood for cooking in a sustainable and ecologically friendly way. This means we had to find an innovative solution of reducing the problem while promoting peoples welfare and standards of living. The only way to go was therefore to initiate Climate Change mitigation projects. Hence the planning and implementation of this project under the name: Carbon Emission Reduction for Self-sustainable Environmental Care Project (CCER).