The following are the Legal Representatives of RDIS, who were elected during the General Assembly Meeting of RDIS on 27th May 2021.
Rt Rvd Dr Jered KALIMBA
Rt Rvd Dr Jered KALIMBA is the Bishop of Shyogwe Diocese since June 15, 1997 up to now and Dean of Bishops since 2018 in Anglican Church of Rwanda. Since 2005 up to now 2021 he is the Representative of the United Evangelical Mission - Germany for the four dioceses members, which are Butare, Kigeme, Cyangugu and Shyogwe. Furthermore, he is also a member of UEM Board since 2018 up to date. He is also a Lecture of Ethics in Protestant University of Butare since 2005 up to now. In addition, Bishop Kalimba was the President of Christians and Muslims Religions at National level from 2002 to 2015. Moreover, the Bishop is also the Vice-President of CPR: Council of Protestant Churches in Rwanda since 2018 up to date.
Rvd Solange MANISHIMWE
Rvd Solange MANISHIMWE is a Pastor in the Anglican Church of Rwanda Butare Diocese where she serves as a head of Sunday School Program at the same time Assistant of the Sub-Dean in St Paul Cathedral. She holds Bachelor Degree in Theology, and she is pursuing her Master's Degree in the same field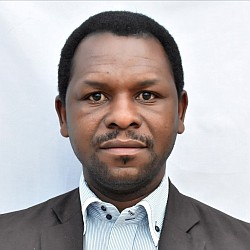 Mr Jean Chrysostome NSABIMANA
Mr. Jean Chrysostome NSABIMANA is working for the Anglican Diocese of Kigeme as the Diocesan Administrator for more than 10 years. He is a holder of Bachelor's Degree in Computer Science and he is currently pursuing his Masters Course in Business Administration.