As a community based development organization, the Rural Development Inter-Diocesan Service (RDIS) has since 2008 taken interest to contribute towards the mitigation of climate change by sequestering carbon from the atmosphere. Forests act as carbon sinks, absorbing carbon dioxide through the process of photosynthesis, and storing it in biomass and soil. This helps to reduce the concentration of greenhouse gases in the atmosphere and limit the global warming.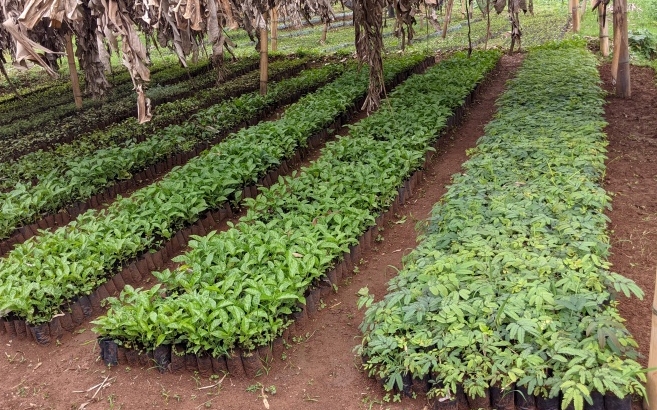 In addition, planting agroforestry, forestry, and fruit trees in Rusizi and Nyamasheke districts is crucial for promoting sustainable land use practices, which are essential for combating soil erosion and degradation, improving soil fertility, and conserving natural resources such as water and biodiversity. This is particularly important in Rwanda, because most of the population depends on agriculture for their livelihoods.
Furthermore this project, provide multiple benefits to farmers, such as increased income, improved nutrition, and reduced vulnerability to climate-related shocks. This is an important project for achieving sustainable development goals related to poverty reduction, environmental sustainability, and climate change mitigation and adaptation. With the support of Rwanda Action, RDIS has been successfully implementing tree nursery projects in Rusizi and Nyamasheke districts. During this time, over 1,350,000 tree seedlings have been distributed and planted by RDIS. The average survival rate of tree planted is 98%, this the reason why RDIS has been able to restore about 1,498 Hectares of land in Rusizi and Nyamasheke districts from 2015 to 2022.
RDIS and RA have actually been working together since 2008. (When we were called RDIS was working under the name of Service du Development Rural Inter-diocese, at this time RDIS was a department of four dioceses of nglican Church of Rwanda and Rwanda Action was called Rwanda Aid). Since 2008 to 2022 RDIS with the support of Rwanda Action has planted 3,533,506 trees with a survival rate of 98% which is equal to 3462836 trees and 7,740 Total Hectares restored. RDIS has achieved these targets by involving different stakeholders, such as local leaders at the district, sector and cell levels also local churches, as well as community members in Rusizi and Nyamasheke districts.
Even if the Government of Rwanda, through the Ministry of Environment, adopted a number of policies which are relevant for proper management of environment like Rwanda Environmental Policy, 2003, Rwanda Biodiversity Policy, 2021 and National Environment and Climate Change Policy, 2019. There are still insufficient funds to establish, run and manage tree nursery beds.
RDIS has therefore for a long time collaborated with government leadership especially at the local level (District, Sectors, Cells and Villages) in establishment, running and managing nursery beds with the support from Rwanda Action.

However, the fund provided by Rwanda Action every year is limited because we only prepare and distribute 150,000 trees which are very few considering with our experience, expertise and the importance of trees which are the following:

Trees provide numerous benefits to society, including improving air and water quality, mitigating the effects of climate change, and conserving biodiversity. These benefits are long-lasting and can have a positive impact on the environment and human health for generations to come.
Tree planting projects provide opportunities for community engagement and participation and promote environmental stewardship.
Tree nursery beds are located in the following communities of Rusizi and Nyamasheke districts:
Nyakabuye tree nursery; Nyakabuye sector in Rusizi District, 58km from kamembe town. The Cell and Village will be identified in the meeting with local authorithies.
Kanjongo tree nursery, situated in Gakomeye village, Kigarama village, Kanjongo Sector, Nyamasheke district at 54 km from Kamembe town to Nyamasheke District.
Bweyeye tree nursery is situated in Bweyeye sector in Rusizi district in 88.5 km from Kamembe town.
Nzahaha tree nursery ; situated in Nzahaha sector-,Rusizi district in 38 km from Kamembe town on the road to Bugarama and
Bushenge tree nursery located in Gakombe village, Karusimbi cell, Bushenge sector in Nyamasheke district 35km from kamembe town.
♥ GO BACK TO THE OVERVIEW.
Please read also some updates here:
-------------------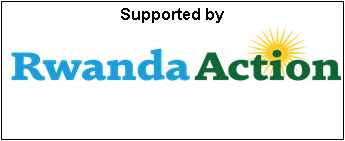 Rwanda Action**
Registered Charity Number: 1124634
Postal Address:
Bugsell Farm, Bugsell Lane,
Robertsbridge, East Sussex,TN32 5EN
United Kingdom
Website: https://www.rwanda-action.org/
**Formerly Rwanda Aid, is a charity that is empowering communities to reduce poverty in Rwanda.

Please download project report 2022 here
Photo Gallery: