Empowerment of single mothers and under high risk girls project funded by Rwanda Governance Board and implememnted by Rural Development Inter-Diocesan Service benefiting districts: Kamonyi, Nyanza And Nyamagabe.
Hier: Success stories documented during the project monitoring as of 23rd and 24th may 2016
Success story 1: She will reach her dream
At the age of 19 years, Ayikamiye Telephonia dropped out of her secondary school because of lack of adequate scholastic materials; she joined a vocational school under WDA program in Rwanda where she acquired skills in hair dressing. After the 6 months of intensive training, Ayinkamiye started a saloon using the little required capital that she got from her parents.
In a busy center of Nyarubaka, she saw her business growing day and night. Her hope of a better future kept on going. As days came to pass, a very smart boy from the district of gisenyi opened mens saloon next to her door. As a welcoming neighbor, Ayinkamiye welcomed the boy and showed him all corners of the busy center.
Friendship between the two opposite sex kept on growing, and in the long run the two fell in romantic love. The girl was impregnated after 2 months of the intimacy relationship.
The news went up to the parents of the two. And family talks started where the boy accepted the responsibility of taking care for the girl and the children until birth. But as things went on the colors turn red, the boy discovered that he could not afford the responsibility, he finally run away from the village leaving the girl to depend on her biological parents.
Ayinkamiye narrates that it wasnt easy for her parents to take care of her during this critical time where she needed a lot of care from either the father of the children or any other passionate person. She was bullied, abused, beaten and most often by her own parents until she left to his uncle at six months. At her uncles place, she had some peace and its her uncle that helped her parents understand that Ayikamiye wanted more parental care and help than being neglected.
Nine months after giving birth, in the early morning hours, Ayikamiye who was washing her face had an announcement by the village announcer that a certain NGO in this case RDIS was inviting single mothers and out of school girls for a meeting. She did arrange to attend the meeting.
In this meeting, she was selected as one of the single mothers who would undertake different trainings both theoretical and practical. She was so much impressed by the practical training on hand craft she is under taking. She believes that if her salon skills are complemented by the hand craft skills she will be able to provide all the basic needs to herself and children but also to her parents as a thank you for what they did to her during the tuff times.
Despite the life challenges and difficulties she has gone through, and with the little she is anticipating in her future business (lack of raw materials, inadequate market, and sickness), Ayikamiye is still optimistic that her future life will be the same to her childish dreams. With all these opportunities that I am exposed to, I will remain focused to what I wanted to be since childhood, all I want is a better future Ayikamiye said.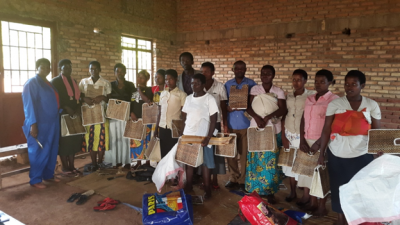 Training beneficiaries in group photo. From right Ayinkamiye in white t-shirt and black skirt while Nyirarukundo Noami is 2nd from right. First from Left (Blue Oval) is the teacher trainer.
---
Success story 2: Tough times require tough heart
Be tough too when the situation becomes tough and be rough when life is becoming rough Nyirarukundo Naomi a girl from a family of 5 children starts her story emphasizing the quote and with a smile on her face. Naomi who is 18 years old is the first born of the 4 girls and 1 boy. Because of the family poverty, Naomi could not go beyond senior three despite the government policy of free and subsidized education because of other essentials that may require some money.
She walks a distance of 5 kilometers every day and covers about 20 kilometers every week for the hand craft skills training she is taking. For the last one month, she has been able to make shopping basket from banana leaves and she expects to learn more.
Previously, she would do yellow banana selling alongside the roads in every evening, and she hopes that her small business skills will expand given the trainings she is receiving from RDIS. She dreams becoming a strong business woman.
Success story 3: RGB and RDIS efforts restoring vulnerable girls hopes
Tuesday early morning, I set off with my collogues from Muhanga head office to Nyamagabe district to visit the single mothers and under high risk girls project that is funded by RGB.
Few minutes to noon, we reach Mbazi sector. In the center is the training room hired for the 12 girls who RDIS is training on sewing and tailoring. Surprisingly all these girls speak good English and some French. They have reached at least senior three of the secondary school.
With 5 of the 12 having children of 3-2 years, and the remaining 7 having no children, they still live happily and together despite the children of the five crying, playing with the sewing machines and also making noise during class hours. Claudine said Giving birth by any of our classmates here may is bad luck, it was no intended and it can happen to any of us too she said a child is a blessing and these children you see here have no sin on them . Her words shows that many people are changing their thinking and perception towards the single mothers in our traditional leaving.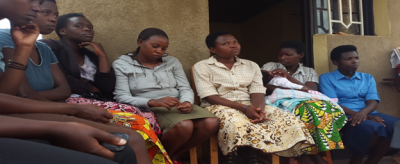 Part of Beneficiaries (Class) listening to visitors
---

Constance the class leader completed her advanced level of education. She did History, English and Geography as a combination. She completed in 2014 and she could not get the government bursary for university education despite having scored well because of many students who had scored better than her. She had lost hope of getting a job as her education background can only en able her seek a job than create her own. Today she narrates that with courses that she has covered in this training like: sewing machine installation, moving the wheel and fixing it, cutting and merging together the cloth, making pants, vests and the more she expects, she will make her own toiling workshop instead of moving from office to office.
Nikuze Claudine from a family of 9 children, 4 boys and 5 girls wanted to become engineer- architecture. She lost her dream when she completed her primary education and couldnt proceed to secondary school. Her father could not fully support her for further vocational studies the only alternative she had if her future was to be better, she half way did building and construction, hotel management and toiling courses this left her in a paradox. Today she is impressed by the second chance of doing the toiling and she believes that its an opportunity to excel in toiling given that for all the courses she did not complete, only toiling has repeated itself.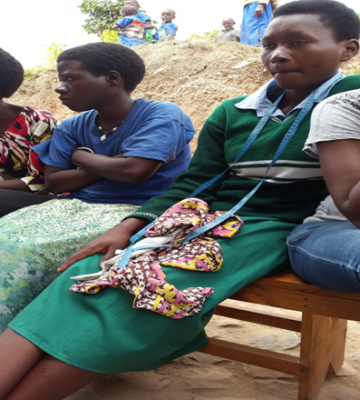 Seated in between others, she is putting on her previous school uniform. Very attentive as if she is a candidate waiting for national examination papers. When asked about her attire, she said that her school uniform makes her unique to other girls who she may meet on her way to and from the training center. When someone meets me on the way and I am in school uniform she/he will respect me. You cannot joke with a school girl, they will arrest you when you temper with her to her, school uniform is a preventive measure from men and any other destructor.
MurangijeImana is another girl in this group who you will love to see when you visit this project. She is a bit shy and ca not hold direct eye contact with you for long. She loves toiling and hand craft, but she had no opportunity until the latter. MurangijeImana had not reported in the first group of girls who came on the first day after hearing the village announcement inviting single mothers and under high risk girls for a meeting, in the eve of the evening when she was going to fetch water, she meet a group of girls who were coming from the meeting. They told her that none of the group members had been selected because they didnt have the basic requirements couldnt read and write. She asked the group members if the registration was under way and indeed she reported the next day for registration and she was enrolled. I was accepted and registered on the second day, to me that is the beginning of new life she said.
Though she has no child, she knows that she is not unique to such circumstances and she can at any time if not careful be pregnant. They are very many careless, liars and un serious men outside here, they speak nice words to you and when you believe them you suffer alone, we as girls we have to be sharp she said
With the endless expression of the best they have acquired and with high level of concern to excel in future given the knowledge and skills acquired through RDIS trainings, the project beneficiaries believes that they will make it. The sky is neither the limit one beneficiary said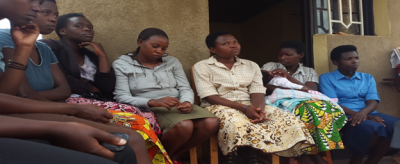 Beneficiaries leaving their seats after our departure. At the back of the t-shirt of middle beneficiary is "better tomorrow is our goal"
---
Provided RDIS continues the women empowerment, gender based violence, and gender equality advocacy with emphasize in micro-finance service for rural entrepnuership, the communities are likely to experience a dynamic life transformation which will lead to social and economical well being.
In spite the normal constraints which many project proponents experience (differences in beneficiaries level of commitment, inadequate resources, etc) The project is very significant and relevant to the community needs and is community driven project.
The writer is Emmanuel kwiizera
RDIS Worker