RDIS, 19th December 2022
Also in the year 2022, the Rural Development Inter-Diocesan Service (RDIS) has successfully implemented a project for building homes for vulnerable families in Rwanda in support of the United Nations' Sustainable Development Goals.
RDIS in close collaboration with the local leaders identified one family from Nyaruguru district and another from Rusizi district as beneficiaries and collaborated with local leaders, the Anglican Church - Cyangugu and Nyaruguru dioceses, and the community to construct their homes.
The inauguration of the home for home of a widow AYINSHAKIYE Anne Marie with 3 children -- in Rusizi district, GASHONGA sector, RUSAYO Cell, in CYIBOMBWE village, took place on 24/11/2022.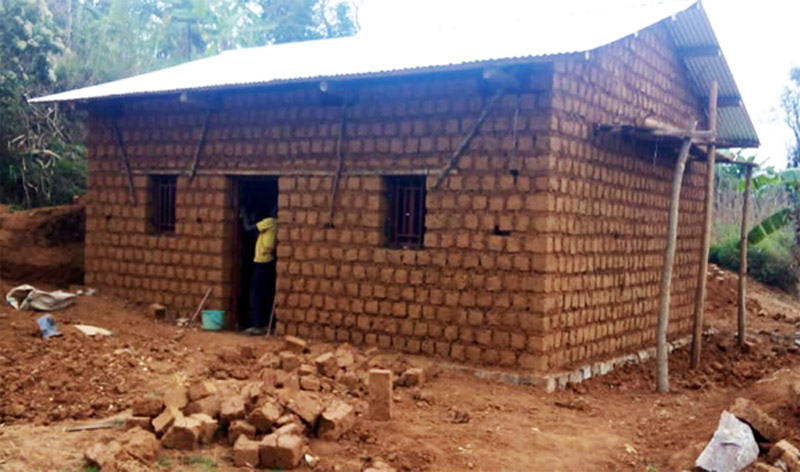 House of NSHUTIRAGUMA Eliazar and MUNGANYINKA Odette with her 4 children from Nyaruguru district, Mata Sector, Ramba cell, Cyafurwe village.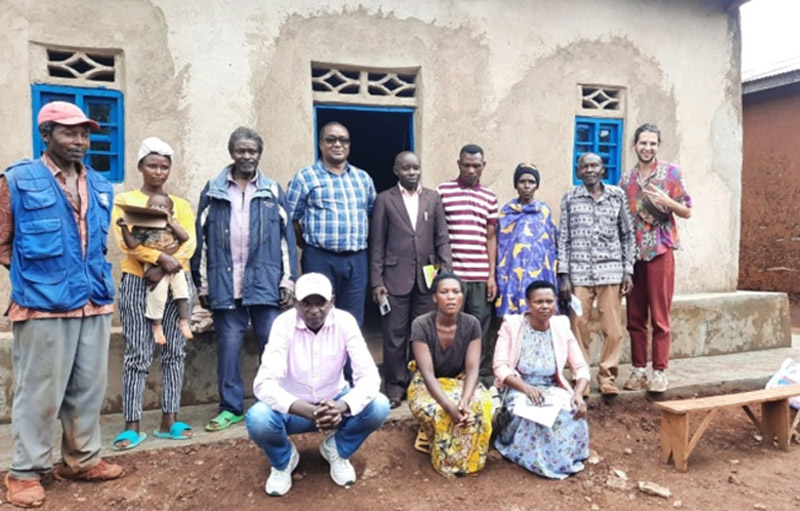 Some attendees at the house inauguration ceremony in Rusizi district
1. Background information
The Rural Development Inter-Diocesan Service is an Anglican owned organization jointly established by the Dioceses of: BUTARE, CYANGUGU, KIGEME and SHYOGWE registered by Rwanda Governance Board as per N0 13/RGB/NGO/2015. The organization is striving for professionalism, performances and sustainability, RDIS works out a written action plan and budget as one of the strategies likely to bring about efficiency, effectiveness accountability and positive impact in social economic and spiritual aspects of the members of the communities that the organization serves.
RDIS is fully committed to fulfill accountability standards as it pursues the benefits of the members of the communities it works with and for. Furthermore, the organization is assigned a clear mission "Safeguard environment, increase the production aiming at sustainable and holistic development". The Rural Development Inter-Diocesan Service is always guided by its mission statement throughout projects and program design, implementation and monitoring to ensure that, the organization remains right to its mission.
The keywords from our vision, mission and objective statement are "A Holy Soul in a Health Body", Environmental Protection, Increase the Production, Sustainable Development, Reduce Poverty etc. These targets are in fact, in line with the UN Sustainable Development Goals which are given more weight in Rwanda, namely:
1: No Poverty,
2: Zero Hunger,
3: Good Health and Well-being,
13: Climate Action
Coming back to this year achievements towards house construction, St Paul's Anglican Church in Edmonton Alberta –Canada had played a very significant role as it had been the case for the last years. RDIS, the local Churches and benefiting families are very thankful to the Financial Partner.
2. Introduction of house building
The 17 UN Sustainable Development Goals (SDGs) are a call for action by all countries – poor, rich and middle-income – to promote prosperity while protecting the environment, by 2030. Housing is an important component of the 2030 Agenda for Sustainable Development and an essential driver for achieving many of the Sustainable Development Goals.
The process of housing improvement is often a ladder out of poverty for families. This particular statement is found specifically in SDG 11.1: Safe and Affordable Housing.
RDIS is devoted to support the most vulnerable families in the communities where it serves, including homeless families. The household project targets the SDGs on these specific aspects:
Adequate and affordable housing leads to benefits in health, education and economic opportunities.
Housing as a process can create a sense of place and dignity, building community cohesion as well as one's social and financial network and assets.
Adequate and affordable housing is a multiplier of community jobs and incomes and improves household financial stability. etc.
The RDIS was able, in close collaboration with the local leaders to identify a beneficiary and together with other stakeholders to construct a house in collaboration with Mata Sector leaders and Mata EAR Parish leaders, the family of NSHUTIRAGUMA Eliazar and MUNGANYINKA Odette with her 4 children from Nyaruguru district, Mata Sector, Ramba cell, Cyafurwe village. In GASHONGA sector, RUSAYO Cell in CYIBOMBWE village, RDIS constructed and completed a house of the family of widow AYINSHAKIYE Anne Marie with 3 children in Rusizi district. This project wouldn't have been possible without the following partners and stakeholders: The Anglican Church - Cyangugu diocese and Kigeme diocese, the local government, the beneficiary and the local community.
2.1 Steps of the project
Identifying beneficiaries capable to contribute 20% of the total cost of the building and meeting other required criteria;
Identifying and signing contacts with builders;
Supervising the builders to check whether or not standards and quality set in the contracts are fully respected, and, if not advise accordingly;
Paying builders as per contracts specifications and deadlines;
Official handover of the houses by builders to RDIS
2.2 Selection criteria of households
A new beneficiary get choosen by a local leader with collabolation of RDIS Field Coordinator and the pastor where a beneficiary is located. Criterias are as follow:
Being homeless family or famliy living under deplorable home' status
Poor family in general
Having a plot to build a house
Being ready to contribute in kind ( such as tress or mudbricks) a proof of ownership by members of the family. Whenever, the family is incapable to provide what is required, the local Church helps the beneficiary to avail the the required contribution. i.e: congregants of the local Church make mad-bricks, local Church provides trees from the Church woodlot. Sometimes, the local leadership contributes as well.
"St. Paul's Anglican Church in Edmonton, Canada, played a significant role in the project by providing financial support. RDIS remains committed to fulfilling accountability standards and working towards the UN Sustainable Development Goals."
3. Activities carried out throughout construction process
The government of Rwanda through the "ubudehe" category (families income categories), already helps the homeless families to build houses in terms of getting the basic materials for example tins and everything else what is required. RDIS is committed to help the families to build a house because they would not be able to do the rest on their own.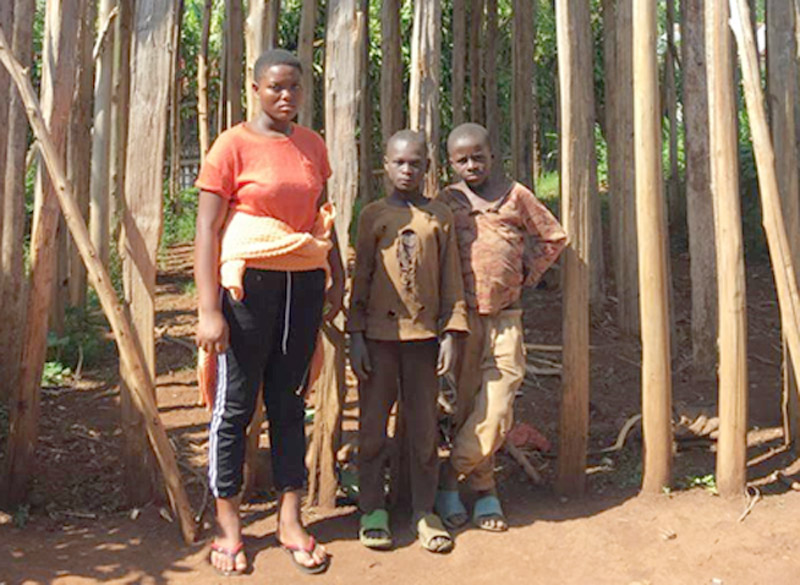 Beneficiary family: The children are thinking about their future life.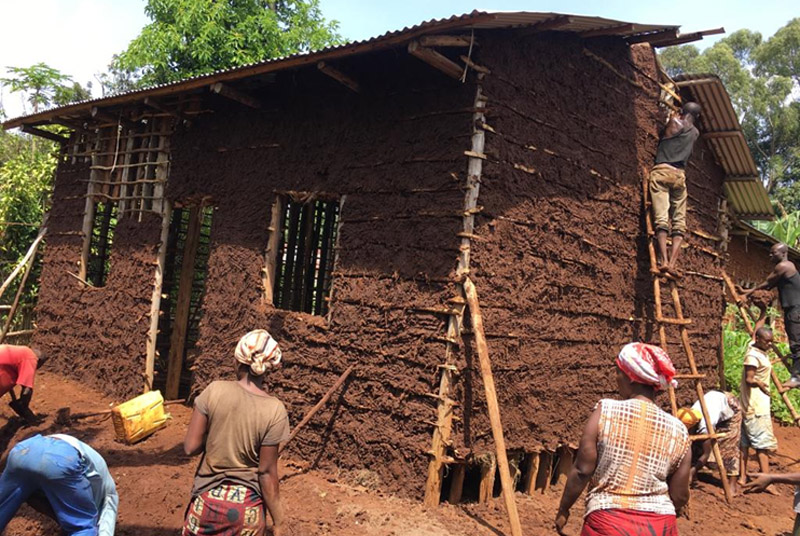 The Anglican Church Christians in Gashonga Parish provided their contribution in the form of manlabour
3.1 Floor plan
The houses RDIS built for has each three bedrooms, one store room and a sitting room. The houses has two external doors, five internal doors and four windows.. For the family to be living in these houses, it is important that they have a kitchen with an improved cook stove, toilette and bathroom outside next to the main houses as well as solar home system for ighting homes and charging batteries of phones and radios.
3.2 Construction of Roof Water Discharge Channel
Roof Water Discharge Channel is an important part of a house because without it the house is not strong and therefore can't last longer. It helps collect water from the roof channel it to specific locationand hence, prevent against erosion.This is the first basic activity. Roof water discharge channel is well built, they are strong and well constructed out of stones.
3.3. Cementing and fixing of doors and windows
In order to make the house strong even to make it better, all the rooms of the house are cemented. The walls are aslo plastered to ensure that they can't easily be damaged by rainfall.
3.4 Final monitoring and supervision
A construction technician build the houses. RDIS field coordinators are supervisors of the daily activities and submitted ongoing reports to the project manager.
4. Inauguration Ceremony in Gashonga sector, Rusizi district
On 24/11/2022, the Rural Development Inter-Diocesan Service (RDIS) handed the house over to a devoted parishioner from the Anglican Church-Cyangugu diocese, Mrs. Anne Marie AYINSHAKIYE, who is a widow with 3 children.
It´s part of the long-term and ongoing project by RDIS, whereby it constructs homes for homeless families as a way of helping them to lift themselves out of poverty. The ceremony was attended by Church Representatives, local Government Representatives from the cell office Ms Priscilla NIYIGENA, from the village authority Mr Leonidas BAZIMAZIKI, RDIS staff and neighbors. It was a ceremony that had a high attention, because there are a lot of people, especially the neighbors of the family, which have contributed many thoughts, work and prayers to the success of the project.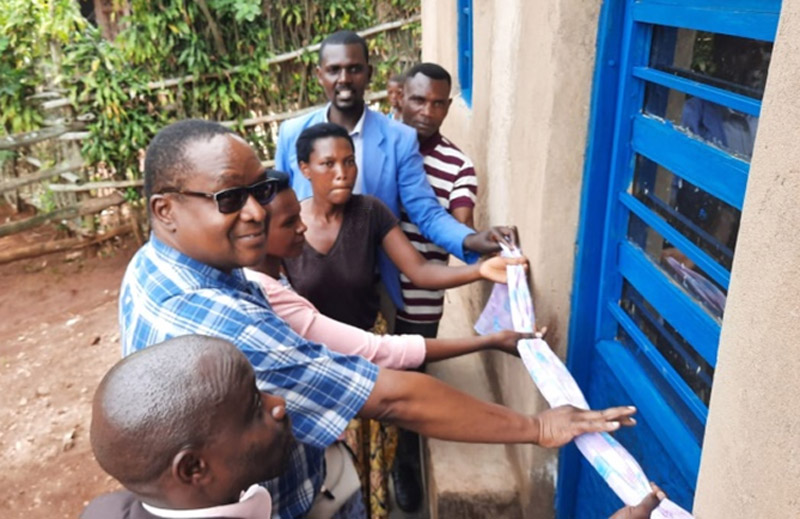 A picture of staff of RDIS and other local leader's during house opening ceremony
5. Success stories
AYINSHAKIYE Anne Marie from Rusizi district, in Gashonga sector said: "First of all I thank God, even the church and RDIS, we have been homeless for many years and life was very bad now we hope that life will change. Thank you all for your support."
NSHUTIRAGUMA Eliazar and MUNGANYINKA Odette were happy and said: "It was an amazing thing for us when we were visited by the RDIS field coordinator and the Pastor of Mata Parish, Anglican Church in the selection process, because we had no house and we thank God. RDIS and the donors made it possible for us to have such a wonderful house, now the living conditions are improving even though we are still not able to afford other basic needs such as school fees of our kids, access to health services."
Prepared by: BISAMA RUTURWA Désiré, Project Manager
Approved by: Pastor Viateur NTARINDWA, Executive Secretary of RDIS

♥ GO BACK TO THE OVERVIEW.
__
https://twitter.com/RDISforRwanda/status/1629165148513378306?s=20
https://web.facebook.com/RDISforRwanda/posts/pfbid02kB5HVpg6cCqEBaiDXg9vhSwtTrRzzeQ9gVrGAe3czyonpoEJao3VqdPaYUbCDE7hl