RDIS, 24th February 2023
The Climate-Smart Agriculture project in Rusizi district, funded by the United Evangelical Mission (UEM), is an ambitious project that aims to help Rwandans mitigate the impacts of climate change and increase farmers' production. Developed and implemented by the RDIS organization together with two dioceses of the Anglican church of Rwanda, Shyogwe and Cyangugu, the project's first phase is being implemented in EAR Cyangugu diocese in Rusizi district.
The project aims to address the adverse effects of climate change, such as land degradation, deforestation, lower food production, and unemployment, while complementing the nation's efforts in achieving the Sustainable Development Goals (SDGs) in Rwanda.
Since the project's launch in April 2022, several activities have been carried out to achieve the objectives of this project at Murangi Farm in Rusizi district:
Among the first activities of our Climate-Smart Agriculture project in Rusizi district focused on raising community awareness on environmental conservation. To achieve this, 20 farmers, RDIS staff, and local leaders were trained on adaptation to climate change and environmental protection.
This was followed by another important activity of recruiting and employing a farm manager for the Murangi Farm Training Center for an 18-month contract. The professional and committed farm manager, Ms Naome UWIZEYIMANA is very important for the daily supervising the farm, for the training and all income-generating activities at Murangi farm, Also within the scope of this activity, horticultural crops are planted and harvested regularly, providing an opportunity for farmers in the surrounding area to learn on the farm and to generate income.
In order to increase farmers' production by efficient irrigation methods and to reduce water consumption, fuel, and Co2 emissions, a solar-powered water pump and other equipment were ordered, delivered, installed, and are operating successfully.
Other project activities intend to introduce and disseminate greenhouse technology and improved irrigation technology driven by renewable energy. Greenhouse equipments and drip irrigation equipments were purchased, delivered, and installed. RDIS purchased the equipment from a supplier company called Holland Green Tech Ltd. In addition, the land was prepared, and agricultural inputs were purchased.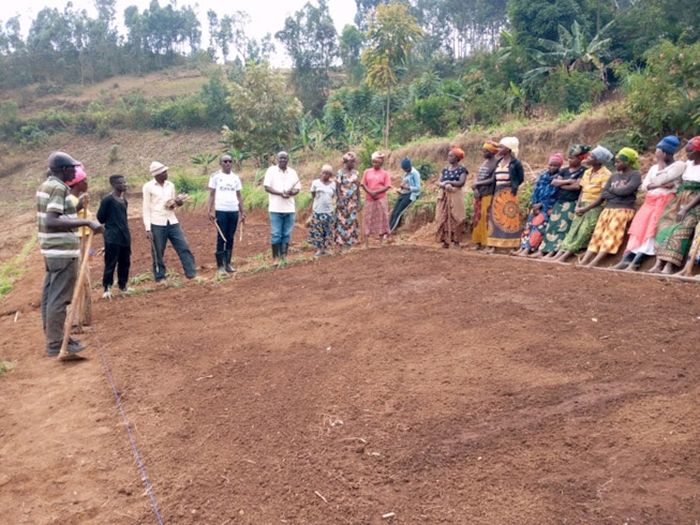 Another important activity of our Climate-Smart Agriculture project within the EAR Church - Cyangugu diocese, which we are also implementing successfully is about the replication of the project in other areas by disseminating project materials such as irrigation techniques, business operations, environmental protection strategies etc. through project fliers, banners, radio programs and TV programs (RTV), social media (Twitter and Facebook), and the project website.
Last but not least, this project is also focusing on training of farmers on animal rearing methods, their impact on crops growing, environmental care, and their interdependency. The training is conducted in two parts, with 20% theory and 80% practical training.
As shown above, through the successful implementation of the above activities, the Climate-Smart Agriculture project in Rusizi district is achieving its objectives of mitigating the impacts of climate change and increasing farmers' production. The project's success is manifested by the introduction of solar-powered irrigation farming and greenhouse technologies, the offering of practical training, and the dissemination of project materials. This short article provides just a glimpse of the positive impact that similar initiatives can have in addressing the adverse effects of Climate Change in Rwanda.
Moreover, on Wednesday, 22nd February 2023, the EAR Church - Cyangugu diocese and RDIS organization conducted an evaluation meeting in Cyangugu, which was attended and chaired by the bishop Rev Francis KAREMERA. Other participants included the Administrative Secretary of the Church, Pastor Boaz ARIHO and about 4 other heads of departments. RDIS was represented by its Executive Secretary, Pastor Viateur NTARINDWA, Project Manager Mr Eric BAGENZI, engineering consultant Mr Richard MADETE and other RDIS staff working in the project area including the farm manager Ms Naome UWIZEYIMANA. The evaluation meeting was a very beneficial: So far the Church is satisfied by the progress, but it also made vital recommendations to the project implementation. We also utilized the opportunity to look together for solutions for some challenges. In general, it was a very good and important meeting for achieving even better results in the future.
When closing the evaluation meeting, Bishop Karemera said, the diocese is happy to see the project has not only successfully completed all major installations of the greenhouse and solar-powered irrigation system with various water storage tanks and an extended network of water pipes which are all operational, but it is also training selected neighbouring farmers in theory and in praxis on the farm. He added that this will make the neighbours to consider the Murangi farm differently as they are also directly benefitting from it.
This Climate-Smart Agriculture project in Rusizi district is well underway and has already produced promising results. With its innovative technologies in place and on-going practical training for local farmers, the project is aiming to make a great contribution towards mitigating the impacts of climate change and to contribute to Rwanda's sustainable development goals.
______
This project is sponsored by: The United Evangelical Mission (UEM) - Communion of Churches in three Continents;
Rudolfstrasse 137, D-42285 Wuppertal, Germany, Website: www.vemission.org
♥ GO BACK TO THE OVERVIEW.
Please read also:
Photo album: