About the project:
Climate-Smart Agriculture project was developed and is being implemented by RDIS organisation together with two dioceses of the Anglican church of Rwanda, namely Shyogwe and Cyangugu. The project is implemented in two phases, starting with Cyangugu diocese. It is meant to address the adverse effects of climate change, such as land degradation, deforestation, lower food production, unemployment etc, while also complementing the nation's efforts in achieving the Sustainable Development Goals (SDGs) in Rwanda.
The general objective of this project is therefore to increase farmer's productivity by introducing the use of solar-powered irrigation farming and greenhouses technologies, as well as to enhance environmental protection in the communities by providing training on field to 200 households in Nyamiyaga sector and 200 households in Kamembe sector.
READ ALSO UPDATES: Promising Results for Climate-Smart Agriculture Project in Rusizi District, Rwanda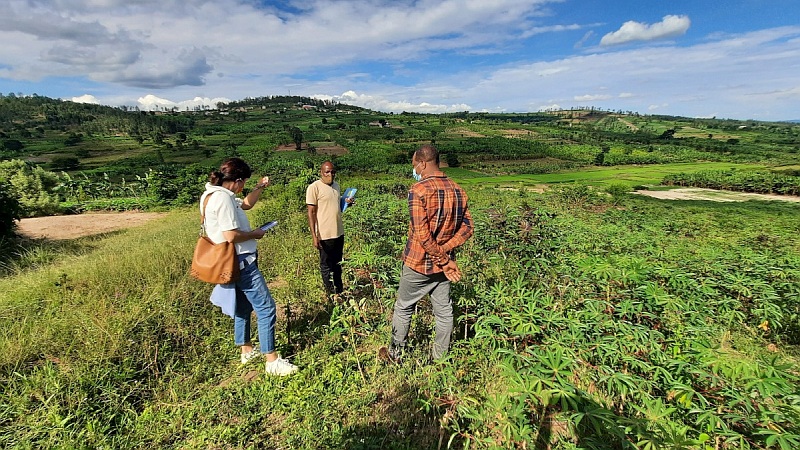 The farm manager of Mbayaya Farm (from EAR Church - Shyogwe diocese) showing the visitor from UEM, Susanne Seiler the position of the second phase of the CSA project. The farm needs a considerable investment to be productive and therefore contribute to the Sustainable Development Goals in Rwanda. (March 2022)
Key objectives of the project:
To introduce and disseminate Greenhouse technology and improved Irrigation technology that is driven by renewable energy
To increase farmers' production by efficient irrigation methods
To replace the current fuel water pumps so as to save water, fuel and CO2 emissions
To create Employment or Income Generating Activities through Irrigation farming
To raise the community awareness on environmental conservation
To train farmers on animal rearing methods, impact to crops growing, environment care and their interdependency
To facilitate the replication of the project in other areas by dissemination of innovative information, best practices and examples
Key project outputs:
Training of farmers
Farmers, staff and local leaders are trained on adaptation to climate change and environmental protection.
Supply and Installation of Equipments
Two (2) Solar powered Water Pumps, two (2) Greenhouses
and two (2) Drip Irrigation Systems will be installed on two project implementation sites.
Training in two Farm Field Schools
Hand-on training of the farmers: 20 % theoretical and 80% practical. Moreover, selected model farmers from the surrounding villages will also participate in the production activities in the greenhouses and well as in the surrounding demonstration farms.
Replication of the project in other areas
Dissemination of best practices and examples.
Supervision of project implementation and M&E
Together with all stakeholders to make sure the project is implemented as it was intended and delivers the projected results.

Downloads: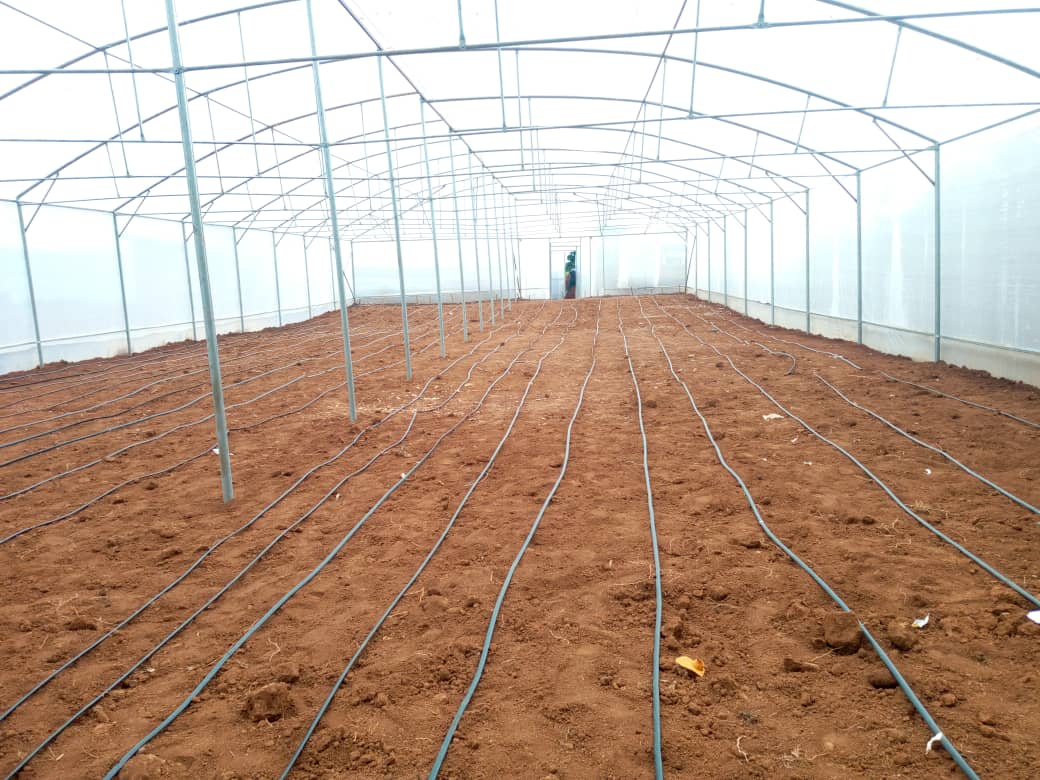 Ongoing installation works at Murangi farm (from EAR Church - Cyangugu diocese). This is the greenhouse with drip irrigation lines for adapting the farmers to the impacts of Climate Change. (May 2022)

Other project stakeholders:
Anglican Church of Rwanda - Cyangugu diocese (Murangi Farm Training Center)
Anglican Church of Rwanda - Shyogwe diocese (Mbayaya Farm & Demonstration Center)
Model Farmers
Local Governments of Rusizi and Kamonyi districts
United Evangelical Mission (UEM)
This project is sponsored by:
The United Evangelical Mission (UEM) - Communion of Churches in three Continents
Rudolfstrasse 137, D-42285 Wuppertal, Germany
Website: www.vemission.org