From 24th to 26th January 2018, two senior staff members of RDIS went for a field visit in the area of the Anglican Church of Rwanda, Cyangugu diocese. As one can see in the few pictures below, all ongoing projects in this area are running well thanks to the good work of local RDIS staff members, stakeholders and the excellent leadership of the diocese.
1. Visit to the tree nursery beds which are located in Rusizi district:
Since many years ago RDIS is collaborating with government leadership especially at local levels (District, Sectors, Cells and Villages) in establishing, running and managing tree nurseries, which reach nearly half of the population of Rwanda from Gitarama (RDIS headquarter) to Cyangugu, i.e. the wide area of Southern and Western Provinces. This project is in line with the mission of RDIS organisation of safeguarding the environment and increasing production for sustainable and holistic development of the communities.
The tree nursery project produces tree seedlings, which are distributed freely to community members and institutions in the area. This successful project is implemented by RDIS organisation with support from Rwanda Aid.
By the end of December 2017 the project had distributed and aided to plant 200,000 tree seedlings for fruit and agro-forestry. Each tree nursery bed had 25,000 seedlings for agro-forestry, i.e. forestry and fruit trees.
The field visit was a good opportunity to meet with the sponsor of Rwandan Aid, Ms Alison Wright <This email address is being protected from spambots. You need JavaScript enabled to view it.>, who is currently on a brief visit in Rwanda. In the discussion about the current status of the project and plans for 2018 with her and the staff members of Rwanda Aid it was agreed that RDIS will have to employ a new staff to oversee the next phase of the project in the coming days, whereas Rwanda Aid will continue supporting the project.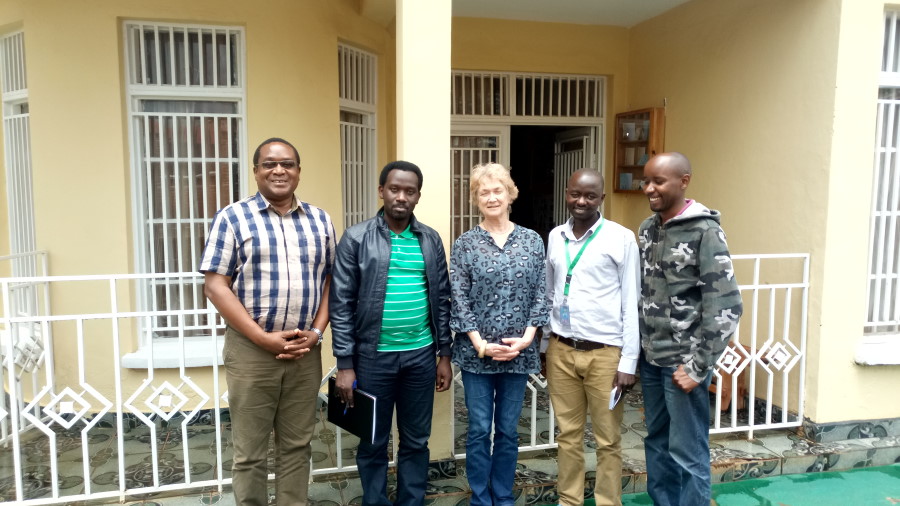 A group picture with Ms Alison Wright and some staff members of Rwanda Aid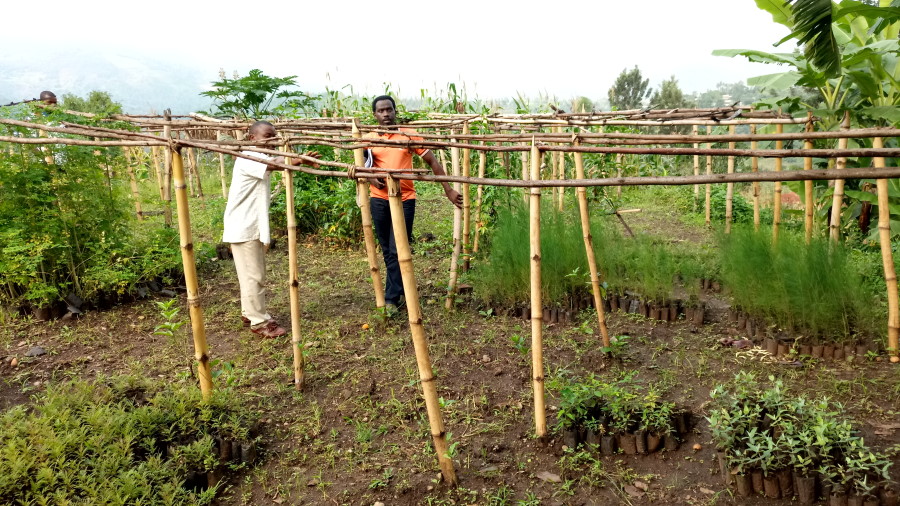 Tree nurseries with a few remaining seedlings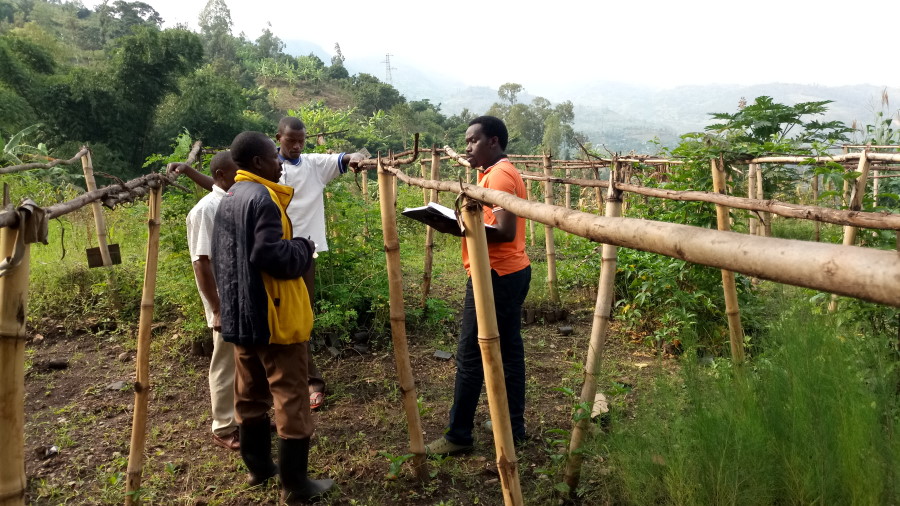 Tree nurseries with a few remaining seedlings
For more information, please read: Tree nursery beds - Environmental conservation in Western and Southern Provinces of Rwanda by RDIS
2. RDIS project for constructing houses for families in difficult situation
RDIS - Rural Development Interdiocesan Service - as an organisation for promoting sustainable development in four dioceses of the Anglican Church of Rwanda (Butare, Cyangugu, Kigeme and Shyogwe) has been constructing houses for families in difficult.
Currently, there are two houses under construction in Cyangugu diocese for families in abject poverty due to various reasons.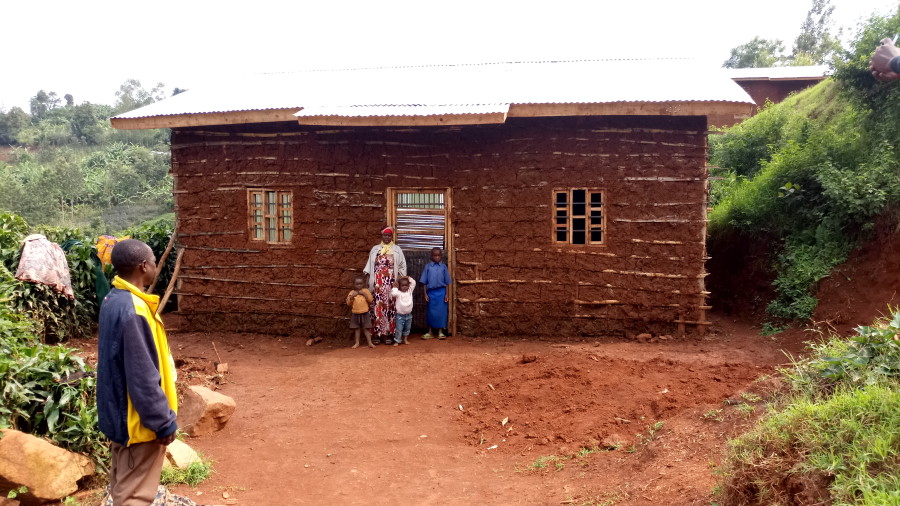 A mother of 9 children with her children in front of the donated house under construction in Rusizi

A mother with her daughter in front of a donated house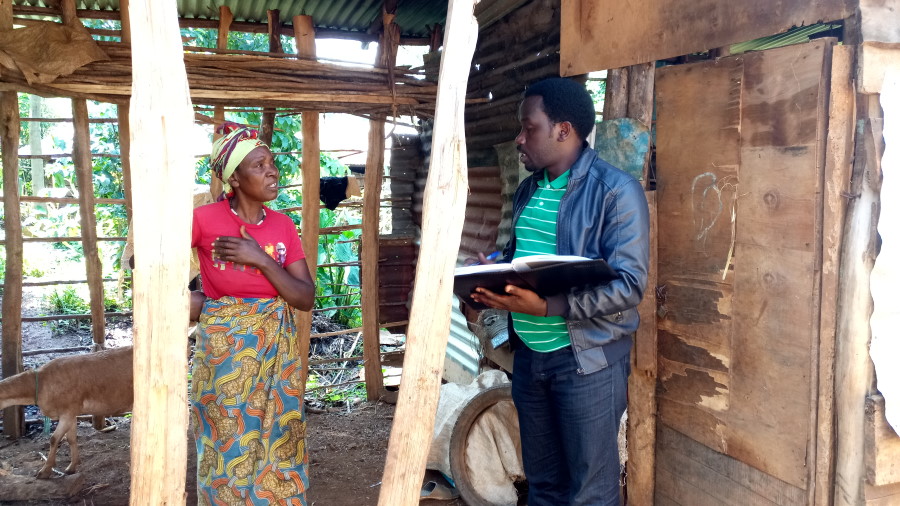 The recipient of the house in discussion about other health and environmental issues with RDIS staff member during the recent field visit
3. Monitoring visit to our "Climate Change mitigation project" in Rusizi
Since 2014 RDIS organisation is implementing successfully a project for "Carbon Credits for Emission Reduction (CCER)" in four dioceses of the Anglican Church of Rwanda, namely Butare, Cyangugu, Kigeme and Shyogwe.
Our CCER Project, which is compliant with Gold Standard, is a perfect "Climate Change mitigation project" aiming at reducing the number of people in Rwanda who use open firewood stoves for cooking and for boiling drinking, which causes emission of gases that in turn cause Climate Change.
This CCER project is thus about fabrication and distribution of Improved Cook Stoves, which help the end user, among others to save tones of CO2 emissions every year, which we trade at CDM carbon markets.
RDIS organisation distributed more than 2,100 Improved Cook Stoves during the pilot phase of the project from 2014 to 2015. As of now, the organisation has distributed further 4,000 stoves, whereby more than 2,000 stoves (so in total more than 4,000 stoves) are already installed in poor households in the Southern and Western provinces of Rwanda.
It was therefore important for the visiting RIDS staff members to pay a monitoring visit to at least a few households, which are using the distributed Improved Cook Stoves in Rusizi district.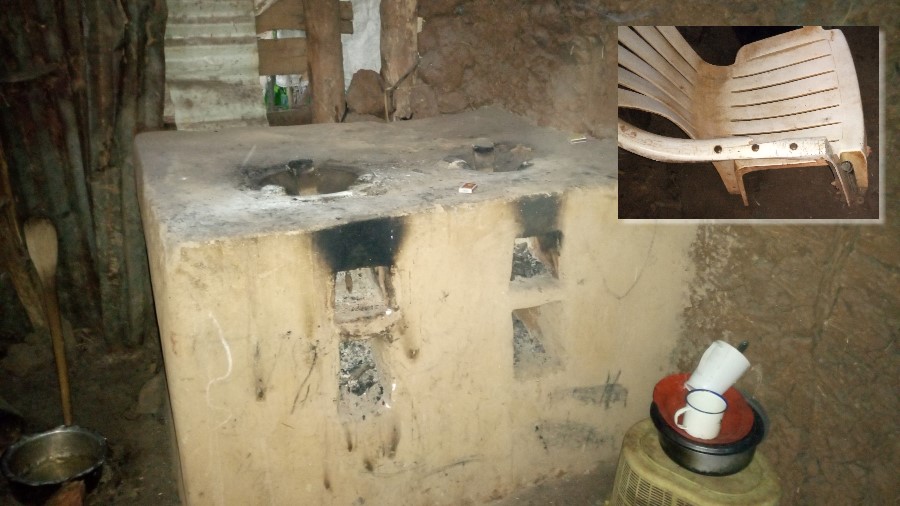 This stove is being used by a handicapped women (not in picture), who confessed to us that she is very happy to have this stove as it helps her a lot. She said, since she started using it, she uses far less firewood and she saves a lot of time as it cooks fast and efficiently. Note: Since the lady cannot stand on her feet's, she sits of the chair while cooking. This example demonstrates that our improved cook stoves are meant for each and every family in Rwanda.
In search for new Distribution Partners:
Our goal is to distribute and install 'two-burners' - Improved Cook Stoves in 6,448 households as well as to distribute one Ceramic Water Filter for each household as a supplementary intervention.
However, RDIS organisation as a Supplier Organisation (or Implementer Organisation) under the ICSEA PoA, with registration number RDIS CPA1 (GS 4823) can distribute up to 22,000 Improved Cook Stoves in the entire country of Rwanda.
Since we have indeed a considerably a high capacity to increase the number of stoves (i.e. beyond the required 6,448 household stoves according to a binding contract with our partners), we are currently in search of other "Distribution Partners", who can assist us in our expansion phase in terms of prefunding the costs of purchase of stove burners, distribution and installation of stoves up to monitoring of proper use of stoves (under our supervision) and also in organising a reliable annual free maintenance service over the coming years. It is important to note that these costs will be paid back by selling Carbon Credits in the coming years.
For this purpose, we are paying half-day visits to all interested organisations and institutions in Rwanda for the purpose of elaborating the procedures of joining us. If you are interested to take part in this noble project by accessing the CDM Carbon Market, please contact us now.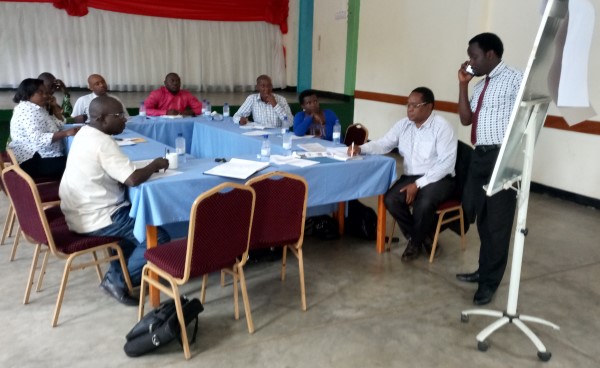 On Mon 22/01/18 the #RDIS team visited the Presbyterian Church of Rwanda in Kigali to discuss about the possibility for them to join our #GoldStandard Project as a Distribution Partner for our Improved #Cookstoves. We introduced to them our project and the requirements for partners.
For more information, please read: CCER - Improved Cook Stoves Project