Today the World marks the #EarthDay 2020 under the theme 'Climate Action'.
We are celebrating while staying safe at home!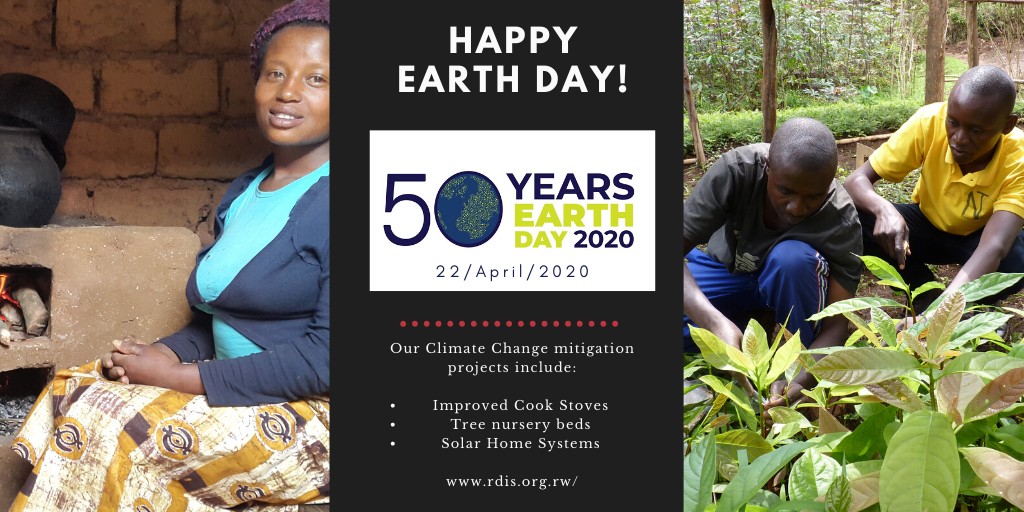 On this special #EarthDay www.earthday.org, the Ministry of Environment - Rwanda has asked everyone in Rwanda to celebrate while staying safe at home. The ministry #EnvironmentRw invites also everyone to share his or her favourite photos of nature in Rwanda using the hashtags #EarthDay and #GreenRwanda!
We are happy to have done it in all our social media outlets.
We understand that #ClimateChange is still one of our greatest challenges. And since we know that trees are important in the fight against #ClimateChange, our main projects are about planting trees (Reforestation in Rwanda), protecting trees (Carbon project for distribution of Improved Cook Stoves in Rwanda) and using renewable energy for lighting and for heating water.
We welcome you also to play your part by offsetting your CO2 emissions through our project with #Klimakollekte, www.bit.ly/klima-kollekte-rdis-carbon-project.
When you offset your carbon footprint with #Klimakollekte, you help reinvestments in reforestation and climate friendly projects all over the world. Play your part!
NB: After all, #Klimakollekte sells certificates at a Fair price.
Last but not least, we are always very grateful for the support we are getting from our project partners such as #BROT_furdiewelt, @VEMission, #UGCarbon, #Klimakollekte, #1fortheclimate