Dear Friends/Colleagues/Partners/Collaborators,
I cannot thank you enough for the work and accomplishments and achievements we got this year. Thank you all for your contributions!
In this year, we thought it would be ideal to share with you some of our accomplishments by this means - email and website. But more importantly, knowing that we are getting close to the end of the year, I would like to take this opportunity to wish you and your families a Merry Christmas and a prosperous New Year!
We have achieved a great deal despite of some challenges.
Among the major issues that challenge the environment in Rwanda is the wide use of open firewood stoves for cooking and for boiling drinking water. Similarly, the hunting, cutting, fetching and carrying of the tree logs and branches by man primarily living in rural communities have caused increasing deforestation despite the RDIS's forestation and tree planting efforts. While the entire process is useful to enable households to have food on table, RDIS decided to come up with a project that would enable the local communities to continue using firewood for cooking in a sustainable and ecologically friendly way. This means we had to find an innovative solution of reducing the problem while promoting peoples welfare and standards of living. The only way to go was therefore to initiate Climate Change mitigation projects. Hence the planning and implementation of this project under the name: Carbon Emission Reduction for Self-sustainable Environmental Care Project (CCER).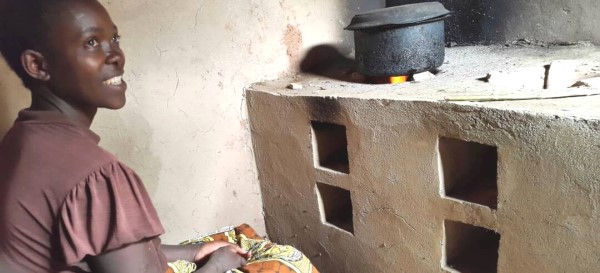 # Improvement in project cycle: We have greatly optimized the project cycle from fabrication of burners, distribution of stove parts to different locations, training for community members on installation and maintenance of the stoves, monitoring & evaluation up to reporting.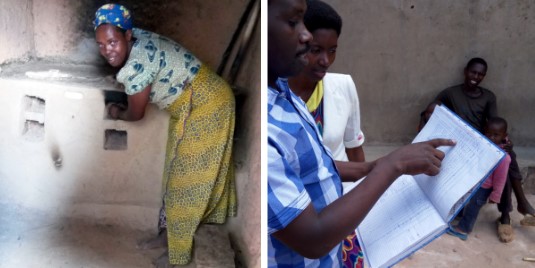 # Good organizational structure: The RDIS organizational structure with a secretarial headquarter in Muhanga and five(5) zonal field facilitators and more that twenty(20) enumerators and installers at community level has proved to be a very efficient way for carrying out such a complex carbon project. For this we have also to be thankful to the steady and good leadership of the organization by the four church leaders of the dioceses of the Anglican Church in Butare, Kigeme, Cyangugu and Shyogwe.
# Improvements in production of burners in terms of quality and speed: The potter company which is producing the burners for us has a capacity of producing high quality 950 burners per month. These burners are enough for the installation of cook stove in about 500 households. By using the best clay that is found on a field owned by Shyogwe diocese, the quality of the burners has improved a lot. Furthermore, our trained installers are able to install up to 5 stoves in a day and they take this job serious as it has become a reliable source of income.

We disseminated more than 2,100 improved cook stoves in the project pilot phase from 2014 to 2015. As of now, we have distributed further 3,744 improved cook stoves, whereby 1,872 stoves are installed already in poor households in the Southern and part of the Western provinces of Rwanda.
Conclusion and challenges:
The demand for our stoves is high and we have not yet reached all areas in need of this intervention. So far, the distribution is going on very well and we hope to reach out to many poor households throughout the country as time goes on. However, our capacity is to distribute and install two-burners Improved Cook Stoves in 6,448 households as well as to distribute one Ceramic Water Filter for each household as a supplementary intervention. However, our CPA can accommodate up to 22,000 Improved Cook Stoves. This number is indeed desired by CPA stakeholders so that "the project becomes financially viable and generates a significant volume of carbon credits". But this is achievable only if we manage to secure enough funds to carry out this imperative work, either as loan or as pre-payment for the acquisition of burners, distribution and M&E costs.
Church and Community Transformation (CCT) is an approach that is used by some development agents to mobilize church and community members in the fight against abject poverty using the resources at their disposal. The programme intends to help churches and communities to achieve material, spiritual, social and economic transformation through mindset change, change in the way of thinking and doing things.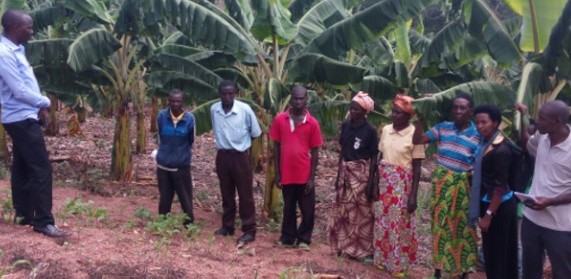 This programme has been introduced in Rwanda by Tearfund UK through its partners with the objective of mobilizing church and community members for holistic and sustainable development.
The programme is currently being implemented in 22 local churches in Gisagara District out of which 6 are Pentecostal local churches and 16 are Anglican Church of Rwanda local Churches. These local churches are located in 6 Sectors of Gisagara District namely: Gikonko, Musha, Ndora, Muganza, Kansi and Kibirizi. The programme is currently serving a total number of 7,040 beneficiaries including 1,760 direct beneficiaries and 5,280 indirect beneficiaries.
The government of Rwanda has a well developed policy on environmental conservation, but there are still insufficient funds to establish, run and manage tree nursery beds.

RDIS has therefore for a long time collaborated with government leadership especially at the local level (District, Sectors, Cells and Villages) in establishment, running and managing nursery beds, which reach nearly half of the population of Rwanda from Gitarama (RDIS headquarter) to Cyangugu, i.e. in the Southern and Western Provinces.
The overall goal of the project is to have an environmentally friendly, ecologically stable and economically flourishing Rwanda for the benefit of the people of Rwanda. By the end of December 2017 the project will have distributed and aided to plant 200,000 tree seedlings for fruit and agro-forestry. Each tree nursery bed has 25,000 seedlings for agro-forestry, i.e. forestry and fruit trees.
Future plans:
This project is a result of the "UEM Feasibility Study on Options of Using and Financing Renewable Energy and Energy Efficiency in Church Buildings in Tanzania and Rwanda" is a continuation of our work for environmental care and disaster risk reduction. Moreover, this feasibility study showed that it is possible for the UEM member Churches to implement environmental protection projects by investing in renewable energy sources (such as Solar Home Systems) in cooperation with ONE-FOR-THE-CLIMATE, whereby the invested capital has to be repaid back.

We have worked out a proposal for a pilot project for supplying 'Solar Home Systems' in Off-grid areas, which fits well in the new model, of investing in renewable energy sources, because it will improve the living condition of poorer people, it will serve the environment, it will be repaid back through the available savings and credit cooperatives and it allows joint funding by civil societies in the North and South as the beneficiaries are willing and ready to pay 30% of the investment in advance.

We are still working on modalities and finances to kickstart this pilot project. But we are willing to implement many more projects of this kind; of introducing investments in renewable energy sources.
NOTE: If you are willing to support us, especially by enabling us to invest in renewable energy and pay back the investment capital, please get in contact with us directly or through the UEM Africa department in Germany. Wo would be very thankful to get your support for promoting environmental protection in this quite new and innovative manner in our region.
B: We welcome other organisations to partner with us to bring more stoves to the community members in Rwanda.
We are very much interested to raise the number of households receiving our Improved Cook Stoves so that "the project becomes financially viable and generates a significant volume of carbon credits". But this is achievable only if we manage to secure enough funds to carry out this imperative work, either as loan or as pre-payment for the acquisition of burners, distribution and M&E costs.
C: We would also like to inform you that we have placements for volunteers in our zonal offices.
The co-operation with you was a pleasure for us and it was once more rewarded with success.
We wish you a Merry Christmas and are happy to start into a new year with you soon!
Thank you.
--- RDIS Team ---
signed by:
Mr. NTARINDWA Viateur
RDIS Executive Secretary