The ceremony was done by RDIS staff. UEM delegation and ATE KELENG highlighted the importance of community work and the continuing of the started partnership between the two NGOs. UEM stated how grateful they are to see the ongoing work of their Church members in Rwanda and Indonesia!
On the 11th December 2022, RDIS wished their guests from Indonesia and Germany farewell. The delegation of ATE KELENG was represented by Rev. Yusuf Tarigan and Mr. Leader Tarigan, the delegation of United Evangelical Mission got represented by Rev. Dr. Andar Parlindungan (head of UEM's "Training & Empowerment" department) and Rev. Dr. Ernest Kadiva (UEM Deputy Executive Secretary for the African region). After an abundant meal, members of RDIS said goodbye to their visitors from ATE KELENG (Indonesia) and United Evangelical Mission.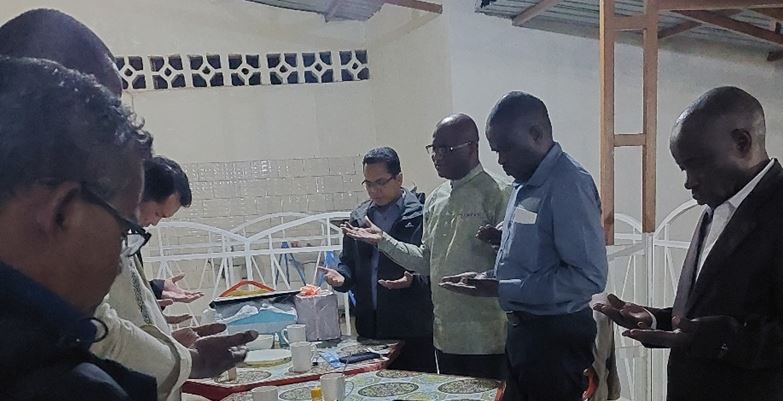 Rev. Yusuf Tarigan from ATE KELENG highlighted their gratitude for their time they've spent in Rwanda and spoke a few words to every attending staff of RDIS:
Thanks to all the members of RDIS staff. Even when sometimes communicating was difficult, because not all staff members speak perfect English. He felt, through the language of smile, that we are connected! We learned a lot and hope to continue doing that when RDIS members will come to visit us next year in April 2023 in North Sumatra, Indonesia!

Cause of Covid-19 we had to delay our planned journey to you, but now our corporate journey begins.
The executive Secretary of RDIS, Rev. Viateur Ntarindwa in his speech, he said:
Despite our different colours, despite our different nationalities, we are the same in the kingdom of God. We are all in one! We are the same in the body of Jesus Christ!

Furthermore, we will visit ATE KELENG, because of a clear purpose. We want to learn more about your financial institutions. In that field, you are ahead of us.

We are thankful for your presence and presentation in different meetings. "Learning is the key part in our partnership!"

Rev. Yusuf often shared experiences in our former meetings, when we were still part of the UEM scholarship program. We are very thankful for this, which made this partnership, our connection possible.

We are serving the people of Rwanda! We are serving God. This is just the start of our partnership, not already the end. We have to be committed that we achieve our goals. Be blessed!
On the other hand, Pastor Dr. Andar Parlindungan, member of the UEM delegation and head of "Training & Empowerment" department, focused on the mentioned cooperation, by saying:
I´m so glad to see, even though my time in Rwanda is very short, that you are harvesting the fruits of our work and scholarship program. This motivates us to continue our services.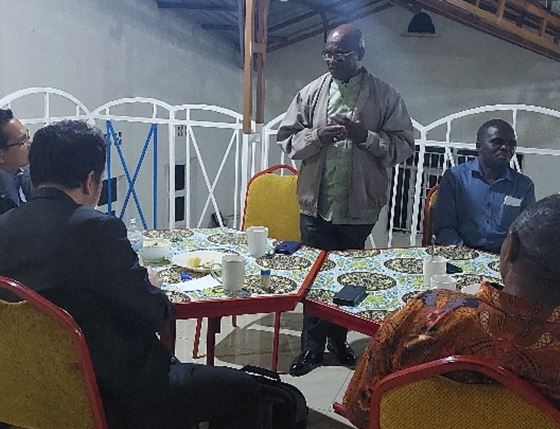 And, the bishop of EAR Church - Shyogwe diocese, Rt Rev. Dr. Jered Kalimba reacted to farewell remarks with the following statements:
What are the roots of this partnership? UEM funds! What secures the ongoing of this partnership? UEM funds!

UEM has to continue the connection of the churches in the south, between Indonesia and Africa. The key of building the kingdom of God is to have passion about people. When I visited your community; I was impressed how you are supporting the poorest people.

The roots of our kingdom are the UEM, the future is the UEM but it's mainly important that we become financially independent. I believe that a credit union is the future and can work in Rwanda.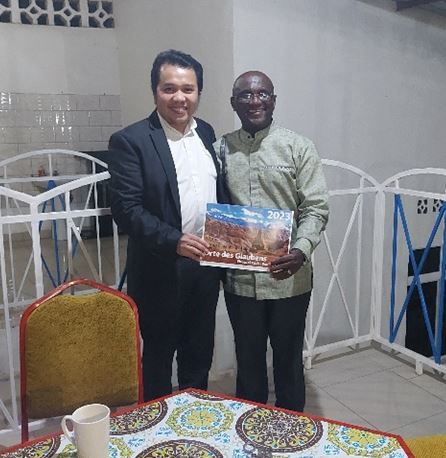 The ceremony ended by not only a prayer, but also by bidding farewell to the visitors and by giving them some presents from EAR of Shyogwe! Bishop Kalimba also received a calendar from UEM as a gift.